BOSSONS PLAQUES
Bossons plaques, sometimes incorrectly called "plates," were produced starting around 1948 in large, circular forms, and in high-relief style. The first publication released by Bossons was entitled "Hand Painted WALL PLAQUES by W. H. Bossons." It was a catalog featuring the "BEAUTIFUL BRITAIN SERIES." The plaques were fourteen inches in diameter, and pictured these British subjects:
HISTORIC BUILDINGS:
LITTLE MORETON HALL

If you travel to England, be certain to visit this unique study in architecture located Near Congleton, Cheshire (home of Bossons)




Close up view of the "Little Moreton Hall"
14" Bossons Plaque.

Other early 14" Plaques in the
"Beautiful Britain Series"

ANCIENT CASTLES


CONWAY CASTLE, North Wales

BALMORAL CASTLE, Aberdeenshire, Scotland
EDINBURGH CASTLE, Edinburgh, Scotland

FAMOUS BRIDGES


THE FORTH BRIDGE, Scotland

ALLERFORD PACK HORSE BRIDGE, Somerset
BRIG O' BALGOWNIE, Aberdeenshire
Plaques from the "Wonderful World of Bossons" are so numerous, we can only choose a few of our favorites to mention and picture here.
For example, the HUNTING SCENES (1 and 2), modeled in two sizes: twelve and fourteen-inches. The larger scenes shown below were introduced in 1950 and carry 1953 artist signatures. They are also illustrated in 1956 Bossons catalogs.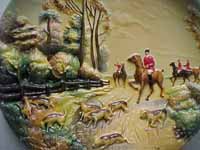 PUTTING INTO COVERT, 14" Hunting Scene
IN FOR A GALLOP, 14" Hunting Scene
Learn to recognize the very important Bossons identification for the early plaques. It is incised on most every plaque ever produced by Bossons. This distinctive I.D. was also incised on some of the very early (1958-59) Character Wall Masks as show in the examples below of Nigerian Woman, 1961-62.

Nigerian Woman
Backside with ring hanger
Bossons Copyright Incision
the same as used on early plaques
As discussed earlier, Bossons products were made in three mediums: gypsum plaster, fired pottery, and "Stonite®, ...a modern mix of vinyl and granite powder developed by Bossons."
HERE ARE SOME MINI PHOTOS OF RARE POTTERY PLAQUES
"Aboriginal Scenes"
| | | |
| --- | --- | --- |
| "Fisherman" | "Gunjah Group" | "Father and Son" |
CLICK EACH PICTURE FOR LARGER VIEWS
According to information from the "Imagical World of Bossons" by Robert E. Davis, Book I, 1982, P. 199, "These studies are authentic reproductions of actual photographs taken by Mr. Axel Poignant, during his expeditions to Arnhem Land, Northern Australia..." "They were sculpted by Mrs. Alice Wilde Brindley in 1952 during her first term as resident modeler..." (Davis p.26).